Reinvention Retreat 2019
Unplug & Reconnect with Yourself
Re-Invention Retreat 2019 – Clarity is Power!
"When you are clear, what you want will show up in your life and
only to the extent that you are clear."
Janet Bray Attwood and Chris Attwood, Co-Authors of The Passion Test.
Your Passions – the things that matter most to you in your life – are clues to your life purpose and act as an "inner GPS" for the decisions you make in your life and in your business. What if you're not 100% sure what your passions are? The global economy is changing. Following our passions is no longer a luxury; it's necessary to compete in today's work environment. In a Harris Interactive study, 80% of working Americans stated they are unhappy, dissatisfied, and unfulfilled in their work. That means only 20% of the U.S. workforce is happy and passionate about their work. Where are you in this equation? Clarity allows you to make decisions from a place of empowerment, choosing what is most important to you. Passion at work is just a part of the equation. Knowing what motivates and makes us feel alive raises our desire and purpose in life. This exercise will bring clarity to your life and then you can spend the rest of the weekend… working with our facilitators to turn your Passions into Purpose and your Purpose into Legacy!
Aboard the Royal Caribbean Independence of the Seas
| Date | Port | Arrive | Depart |
| --- | --- | --- | --- |
| March 14 | Ft. Lauderdale, FL | | 4:30 PM |
| March 15 | At Sea | | |
| March 16 | Cozumel, Mexico | 7:30 AM | 6:30 PM |
| March 17 | At Sea | | |
| March 18 | Ft. Lauderdale, FL | 7:00 AM | |
Bobbi Govanus
Bobbi discovered a niche within the computer training industry after 30 years in retail. Starting in her basement, Bobbi grew her company to over $20 million in sales. She was recognized as the "Home-based" Business Owner of the year by Entrepreneur Magazine. Bobbi created the Reinvention Retreat at Sea to help those who want to make the rest of their life, the best of their life. Her mission is to empower others to find and live their passion and purpose.
Dr. Wayne Pernell
Dr. Wayne brings more than thirty-five years of experience as an advisor to leaders. Dr P. has appeared in Forbes, and featured on Fox and NBC, and is an internationally acclaimed and best-selling Author, Speaker, and Certified High Performance Coach. Dr. Pernell leverages clarity and focus as foundational elements in building relationships and developing leadership skills, the basis for his DynamicLeader programs.
Laura Steward
Laura is a sought after business strategist, speaker, radio host and author. After building and selling her highly successful multi-state technology services company she started Wisdom Learned, LLC, a company dedicated to educating leaders based on experience and wisdom learned in the trenches. She is the author of the Nautilus award-winning, International bestselling book "What Would a Wise Woman Do? Questions to Ask Along the Way". Through her weekly broadcast Radio Show, It's All About the Questions, keynote speeches, books, seminars, training and one-one sessions, Laura's mission is clear – help people get off autopilot and create amazing, successful lives.
Bob Spence
Bob is a renowned speaker, coach, leader and trainer. His Choosing Winners™ Hiring System has helped over 300 national companies find executives and has trained hundreds of managers on how to do effective interviewing. In 2016 he received the HR Lifetime Achievement Award from Columbus CEO Magazine.
Deb Lewis & Doug Adams
Deb & Doug went on a fifty-state – 18k mile bicycling tour to raise awareness of veteran and military issues. Their passion is to help others build stronger relationships, love their lives and fulfill their dreams. Deb is a daughter, sister, wife, mother, pioneer, retired Colonel, Combat Veteran, Harvard MBA, Author, Speaker, Leader, Adventure Guide and much more… Doug is a son, brother, husband, father, grandfather, retired Lieutenant Colonel, Cyclist, Lawyer, Author, Speaker, Non-profit
Leader, Adventure Guide…
Jan Deardorff
Jan thrives on dreaming big and enriching women's lives by helping them become all that God wants them to be. Jan started her Mary Kay Business in 1991 and has driven free over the last 27 years earning the use of 15 free cars, 5 being Pink Cadillacs. Jan has built her unit to produce upwards of $500k in retail sales annually. She believes, while it is not always easy, you can enjoy life to the fullest, it is a matter of want to!
Workshops At Sea
The Passion Test – Clarity is Power!
The Passion Test is a simple, yet powerful way for anyone to get clear on what matters most in life. Come join our Certified Passion Test Facilitator for this fun and illuminating time where you will…
Discover your top 5 passions–what is most important to you in your life
Align your life with those passions to experience more joy and fulfillment
Create clarity, feel happier, and more excited about your life
Dynamic Transitions – How to Move Boldly and Gracefully into the Next Great Phase of Your Life! with Dr. Wayne Pernell
Welcoming transitions allows you to grow more dramatically than you have in the past. This course is designed to shortcut obstacles to more efficiently supercharge your growth and development. His session is organized in easy to manage steps for honoring your past and welcoming a bright new future. It's so important to remember that whether organizational or individual, all change – large or small – is personal.
How to Find your Purpose with the Power of Questions
with Laura Steward
Have you circled back to the same place more than once or feel like you are moving in slow motion? Learning to ask the right questions of yourself and others often requires an outside view. You must step outside your own picture frame and, once you do, the way forward becomes clear. But only if you then ask yourself some critical questions. This session will help you gain mastery of yourself and unlock your hidden gold.
Re-Inventing Your Faith Walk with Bob Spence
You never stand in the same river twice. Learn how to be alert to the messages that God uses to direct your steps. Bob's own Faith Journey is a perfect example of the twists and turns that each person takes along the way. This course will teach you how important it is to be constantly looking
at one's faith walk as each of the phases of your life unfold.
Positivity Takes Leadership – Live Life to the Fullest, With Love, In Service
with Deb & Doug Adams
Even the most positive people have moments when they struggle against negative influences. Deb and Doug will share Power Tools to dramatically increase your ability to be your best self through life's toughest challenges. A better understanding of these tools will motivate you and clarify your path.
Realizing and Creating the Future You Desire!
with Jan Deardorff
Identify what it is that you really want. Learn how, with practical, action oriented steps, to achieve the life of your dreams. We often let that small voice we hear dictate where we go, what we achieve and who we are. Start listening to a different voice, and change your life!! It's just a matter of want to!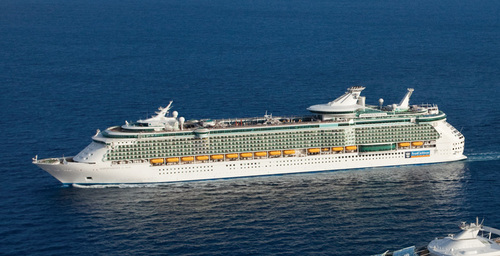 | CAT | Description | Price |
| --- | --- | --- |
| 4V | Inside Stateroom | $499* |
| 2N | Ocean View Stateroom | $699* |
| 2D | Balcony Stateroom | $849* |
*Airfare, Gratuities, Shore Excursions & $150 Program Fee Not Included.
Got a Question?
Feel Free to Dial - 585.653.8746
Drop Us a Mail - Contact Us